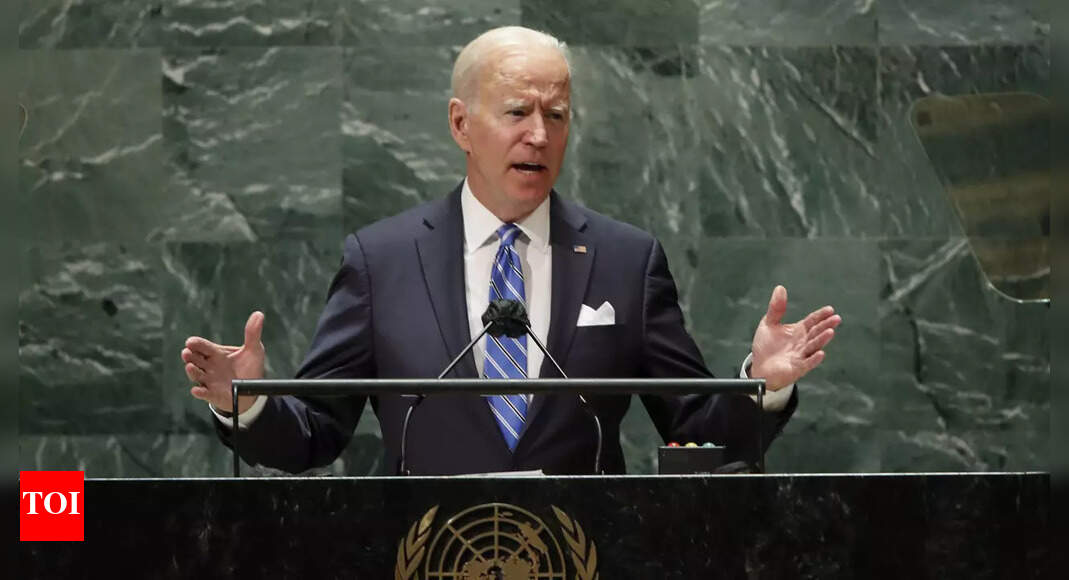 US Not Looking For New Cold War, Biden Tells UNGA Amid Chinese Tensions: Highlights
NEW DELHI: In his first address to the United Nations General Assembly (UNGA), US President Joe Biden said on Tuesday that America will enter an "era of relentless diplomacy" after its withdrawal from Afghanistan.
Amid mounting tensions in China, Biden also said the United States "is not looking for a new cold war."
Here are the highlights of his speech:
"Don't look for the cold war"
Without directly mentioning China, Biden acknowledged the growing concerns about rising tensions between the two nations.
But he said, "We are not looking for a new cold war or a world divided into rigid blocs.
His remarks come as China increasingly asserts itself in the Indo-Pacific region. Biden will host the first Quad Summit in person later this week with Prime Minister Narendra Modi, Australian Prime Minister Scott Morrison and Japanese Prime Minister Yoshihide Suga.
"The era of relentless diplomacy"
The president noted his decision to end America's longest war last month, in Afghanistan, and paved the way for his administration to divert U.S. attention to intensive diplomacy without a dearth of crises. that the world is facing.
He said he was motivated by the belief that "to be of service to our own people, we must also engage deeply with the rest of the world".
"We have ended 20 years of conflict in Afghanistan," Biden said.
"And as we close this period of relentless warfare, we usher in a new era of relentless diplomacy by using the power of our development assistance to invest in new ways of uplifting people around the world."
He said the UNSC passed a resolution outlining how to support the Afghan people and outlined the expectations of the Taliban.
"We must all stand up for the rights of women and girls to pursue their dreams free from violence and intimidation," he said.
Biden said the United States will continue to defend itself and its allies against terrorism.
"Committed to preventing Iran from acquiring nuclear weapons"
US President Joe Biden told the United Nations General Assembly on Tuesday that the United States would return "completely" to the Iran nuclear deal if Tehran did the same.
He said the United States was "working" with China, France, Russia, Britain and Germany to "diplomatically engage Iran and seek a return" to the Joint Comprehensive Plan of Action. America left in 2018.
"We are ready to return to full compliance if Iran does the same," he added.
"The Palestinian state is the best way to resolve the conflict with Israel"
Biden said that a sovereign and democratic Palestinian state is the "best way" to secure Israel's future.
"We must seek a future of greater peace and security for all the peoples of the Middle East," he said.
"The United States' commitment to the security of Israel is unquestionable and our support for an independent Jewish state is unequivocal," he said.
"But I still believe that a two-state solution is the best way to secure Israel's future as a democratic Jewish state, living in peace alongside a viable, sovereign and democratic Palestinian state." , did he declare.
"We are a long way from that goal at the moment, but we must never allow ourselves to give up the opportunity to progress."
Covid, climate change and more
Biden has strongly insisted on the need for world leaders to work together on the Covid-19 pandemic, meet past obligations to tackle climate change, deal with emerging technological issues and strengthen trade rules.
"We meet this year at a time of great pain and extraordinary possibility. We have lost so much in this devastating pandemic that continues to claim lives around the world and have such an impact on our lives. let us mourn over 4.5 million people, people from all nations, from all walks of life. Every death is an individual sorrow, "he said.
He went on to say that this was a "decisive decade for our world" which "will literally determine our future".
"We will choose to build a better future. We, you and I have the will and the ability to make it better. Ladies and gentlemen, we cannot afford to waste any more time. We can do it."
(With contributions from agencies)